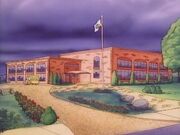 Walkerville is a fictional town in Rhode Island that serves as the setting of the children's television series The Magic School Bus and its live-action films.
Characters
Places
Triva
Even though the town is in Rhode Island. The one the caller on the producer segment is area code is 224. Which is the area code for northern Chicago Suburbs.
Ad blocker interference detected!
Wikia is a free-to-use site that makes money from advertising. We have a modified experience for viewers using ad blockers

Wikia is not accessible if you've made further modifications. Remove the custom ad blocker rule(s) and the page will load as expected.