This template was created by Rogueforvogue.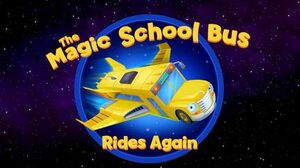 The Magic School Bus Rides Again premiered on September 29, 2017 on Netflix. It was produced with 9 Story Media Group and Scholastic along with Netflix. It consists of half-hour CGI episodes. It is based on the original Magic School Bus book series, and works as a sequel to the 1994 TV series. The original Valerie Frizzle passes over the keys of The Bus to her younger sister Fiona Frizzle.
Ms. Frizzle, now Professor Frizzle, has taken over the role of the producers by answering questions at the end of the episodes. The post-credits scenes also serve to set up the next episode, giving the series a stronger sense of continuity than before.
Recurring Cast and Characters
List of Episodes
See also
Ad blocker interference detected!
Wikia is a free-to-use site that makes money from advertising. We have a modified experience for viewers using ad blockers

Wikia is not accessible if you've made further modifications. Remove the custom ad blocker rule(s) and the page will load as expected.