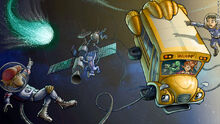 The Magic School Bus Rides Again is a reboot of the original series planned to premier in Summer 2017 on Netflix. It will consist of 26 half-hour CGI episodes.[1]
The reboot is headed by 9 Story Media Group, Scholastic, and Netflix jointly[2].
It has been hinted at by Stu Stone, the voice of Ralphie in the original series, teased fans by saying that there could be some celebrity guest stars on the show.[3] If this series is anything like it's predecessor, then this makes fans young and old wonder who these possible guest stars could be.
It is reported that Saturday Night Live actress Kate McKinnon will provide the voice of Ms. Frizzle. [4]
According to Netflix, two more actors have been announced. Their names are Miles Koseleci-Vieira and Lynsey Pham. It has not be released what characters they will play.
Ad blocker interference detected!
Wikia is a free-to-use site that makes money from advertising. We have a modified experience for viewers using ad blockers

Wikia is not accessible if you've made further modifications. Remove the custom ad blocker rule(s) and the page will load as expected.