Mrs. Li, voiced by
Rosalind Chao
, is the mother of
Wanda and
William Li
.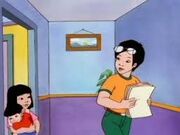 Biography
Her first appearance is in Going Batty, but she doesn't speak. She returns in Ups and Downs and Under Construction. Mrs. Li is a science writer and has a habit of keeping reptiles in the house. She reappears in the sequel series in the episode Magnetic Mambo.
Trivia
Her husband was never mentioned or seen on the show, and it is implied she may either be widowed or divorced, or her husband may have been at work during the events of Ups and Downs and Under Construction.
Ad blocker interference detected!
Wikia is a free-to-use site that makes money from advertising. We have a modified experience for viewers using ad blockers

Wikia is not accessible if you've made further modifications. Remove the custom ad blocker rule(s) and the page will load as expected.