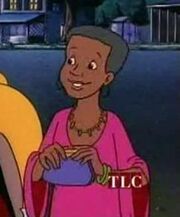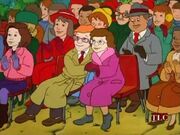 Mrs. Franklin is Keesha's paternal grandmother and primary caretaker, voiced by the late Eartha Kitt.
She attended Ms. Frizzle's parent-teacher conference which included a field trip to an abandoned castle. During the visit which focused on bats, she was particularly excited to see bat babies - and noted she didn't know bats took care of their young. She added that she'd recognize the sound of "her Keesha's voice anywhere". During the trip, Keesha became slightly worried that Ms. Frizzle was trying to turn her grandmother into a bat. ("Going Batty")
Later when Ms. Frizzle's class was selected to create a statue of Captain Walker, Mrs. Franklin was among the parents that attended the ceremony and had a seat in the front row. ("Rocks and Rolls")
Appearances
Ad blocker interference detected!
Wikia is a free-to-use site that makes money from advertising. We have a modified experience for viewers using ad blockers

Wikia is not accessible if you've made further modifications. Remove the custom ad blocker rule(s) and the page will load as expected.